Involvement Opportunities
Additional Involvement Opportunities
Some of our additional involvement opportunities include acolytes, ushering, joining our church council, growing fresh produce in our community garden, our facility management team, our food assistance program, MLM (metro Lutheran ministries) and our shawl ministry team. Below gives a further description of each of these involvement opportunities.
Shawl Ministry
Shawls have come to symbolize shelter, peace, and spiritual sustenance. Many individuals at Gloria Dei have donated their time and talents by creating hand-knitted and crocheted shawls for those going through a difficult time in their life and are in need of comfort. Anyone is welcome to take a shawl and share it with someone who is in need.
Our volunteers also create Comfort Caps that are provided to the Ronald McDonald House and Childrens Mercy Hospital for the benefit of children undergoing treatment for cancer. The Shawl Ministry meets every Sunday morning at 9:15. Come, learn and share your ideas. The Shawl Ministry is lead by Sandy Fogt.
Metro Lutheran Ministries (MLM)
Part of our Outreach programs
MLM is a coalition of 50 KC Metro Lutheran congregations enabling low income people to meet basic needs, recover self-sufficiency and regain hope. We provide financial and personal support for MLM Christmas Store, donate to food and clothing banks, provide job-skill training and more. If you would like to know more about MLM or are interested in helping families in need, please contact Jim Glynn below or (816) 931-0027.
Community Garden
Gloria Dei Lutheran Church provides a Community Garden that is available to anyone in the Northland who is interested in growing food for themselves or to share with others. Whether you love to garden or just want to give it a try, we encourage you to apply for a $25 garden plot. You will gain new friends while experiencing the joy of gardening! The Community Garden is lead by Kelly Grau and Ric Smith. For more information on our Community Garden, please call (816) 916-5907.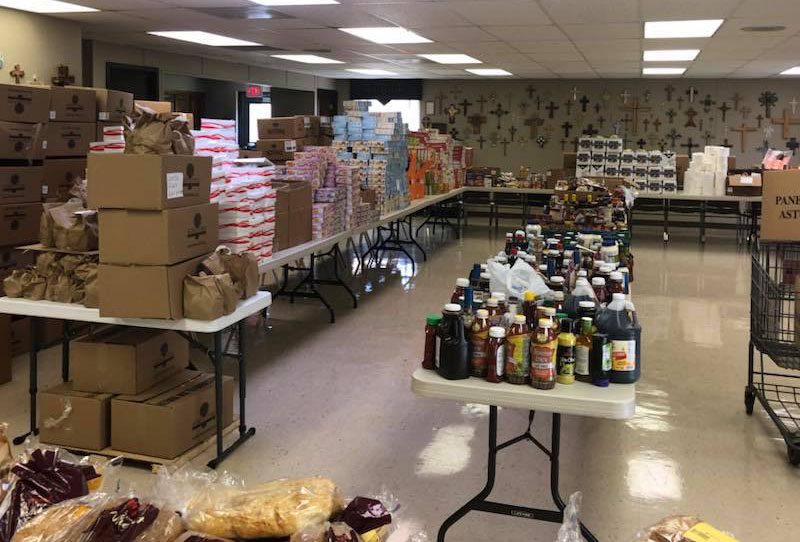 Food Assistance Program/Generosity USA Food Pantry
Part of our Outreach programs
Gloria Dei's Food Pantry serves residents of Platte and Clay counties in need of assistance. Participants are required to provide their household last name, how many seniors, how many adults, and how many children in their household – no financial information is required. The Gloria Dei Food Pantry is open from 7:00 to 9:00 am usually on the first and third Saturday of each month. We are always open for new volunteers to help us serve those in need. If you have any questions regarding the food assistance program, feel free to contact the church office at 741-3150.
Facility Management Team
The Facility Management Team is responsible for the cleaning and maintenance of the church building interior and exterior. This includes the general cleaning and upkeep of both the interior and exterior (mowing the grounds is also an included task). This group does not meet on a regular basis, but on a need-to-know basis when maintenance is required. The Facility Management Team is lead by John Taveras.
Acolytes
Acolytes are a very important part of the Worship Service and also play a vital role in the life of the church. Youth in 3rd grade and above may participate in the Acolyte Ministry. Acolytes are trained to serve in worship, the congregation, and the community. They learn to become leaders by mentoring new acolytes, and planning and participating in programs for the congregation. There are three levels of Acolyte: Acolyte, Senior Acolyte, and Master Acolyte. To reach each level an acolyte has to meet certain requirements. They also earn different crosses and pins along the way as they attain the different levels. The Acolyte program is lead by Heather Mecham.